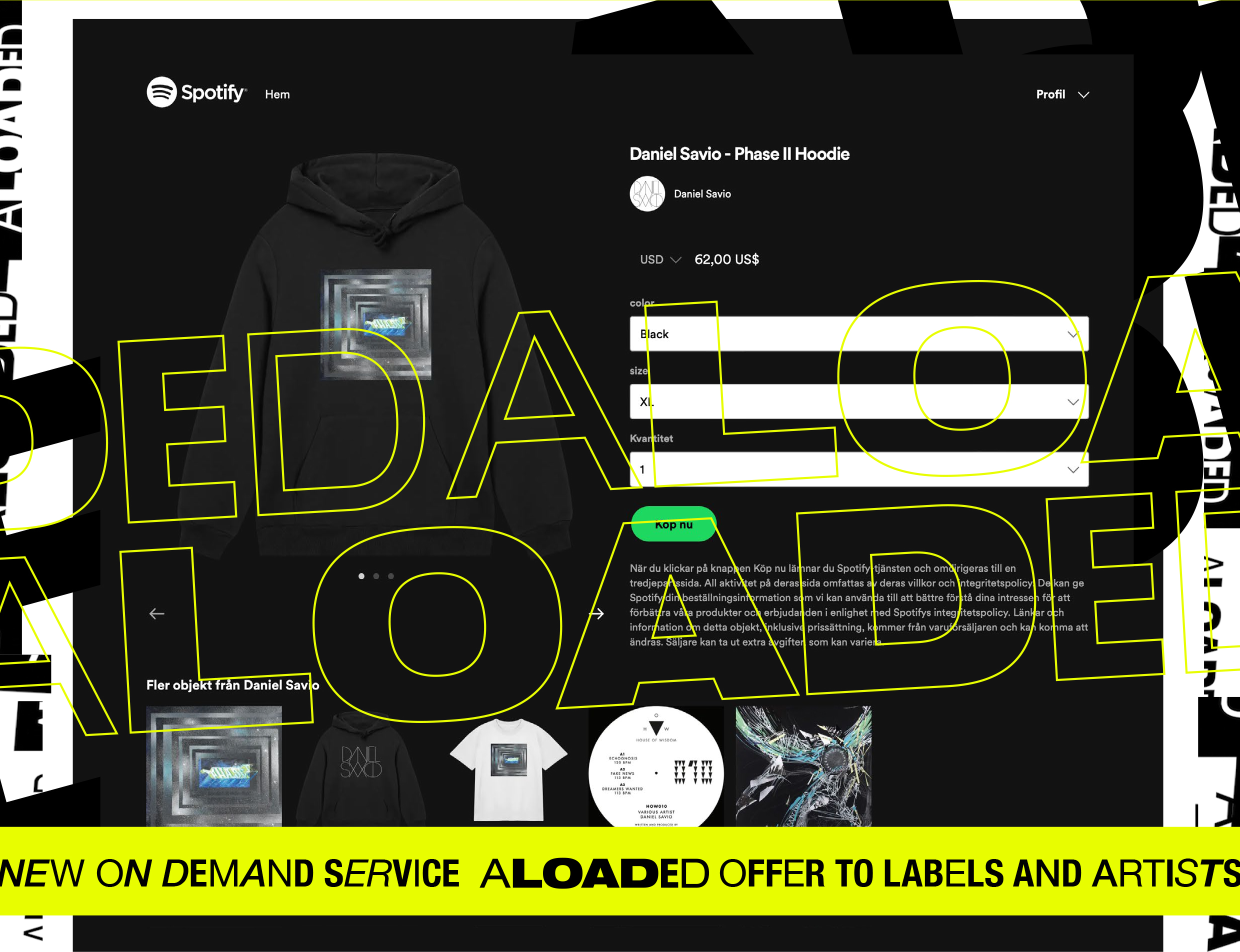 Merch with zero upfront
costs - shipping worldwide

Online sales at
shop.aloaded.com
Merch for sale on your
Spotify artist profile

HOW TO — EASY AS 1—2—3
—Select your merch - clothing and colors
—Invite Aloaded to your artist or management team at Spotify
—Send us your artwork
Earnings Example:
T-shirt production cost: €9.99
You set the T-shirt price: €30 (Before shipping and handling)
Fee for Aloaded (20%): €6

Profit to you, the label and artist: 14€
All products are delivered in sticked sealed, padded packages, with Aloaded neck tag.
All merch made from organic cotton and recycled polyester
Get in touch to plan your merch with us - at no cost to you whatsoever.

Merch on demand is a new trend in the world of fashion and apparel. It allows customers to create custom clothing and accessories with their own designs or logos. This type of service is gaining popularity because it allows individuals to express their unique style and personality through their clothing.
With merch on demand, customers can choose from a variety of products, including t-shirts, hats, bags, and more. They can then use online design tools to create their own designs or upload their own logos and images. The finished product is then printed and shipped directly to the customer. One of the key benefits of merch on demand is that it allows for small-scale production. This means that customers can order just a few items at a time, rather than having to purchase large quantities of a single design. This is perfect for individuals or small businesses who want to create personalized items without having to invest in a large inventory.
Another benefit of merch on demand is that it allows for quick turnaround times. Customers can design and order their items in just a few minutes, and the finished products are usually shipped within a few days. This is a major advantage over traditional clothing production, which can take weeks or even months to complete.
Overall, merch on demand is a convenient and cost-effective way for individuals and small businesses to create custom clothing and accessories. With a wide range of products and easy-to-use design tools, it has never been easier to express your unique style and personality through your clothing.